It's the beginning of a new fiscal year, and time for employees to meet with their managers to set annual goals. They discuss those goals, define success, sign off the goal-setting paperwork and return it to HR. ...Months later, or in many cases, a year later, employees meet with their managers again and evaluate how they met or missed their objectives.
This is the issue—Waiting several months to discuss work performance or provide feedback is ineffective, time-consuming, untimely, and gives an inaccurate representation of people's performance.
According to research conducted by management research firm, CEB: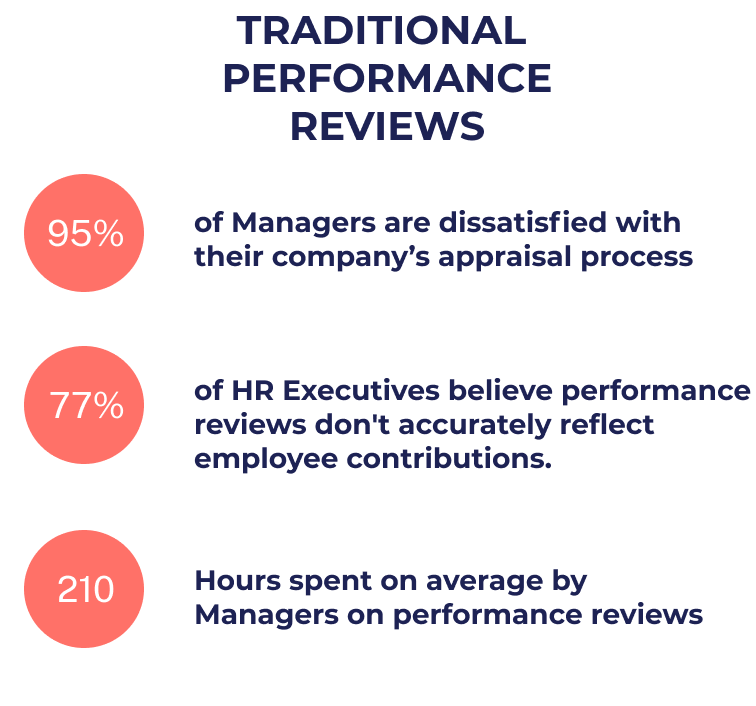 Furthermore, a 2015 research conducted by TriNet and Wakefield, which surveyed 1,000 U.S full-time employees, showed that "nearly 22 percent of employees have called in sick because they were anxious about receiving their review."
Given this information, it makes sense why the trend to get rid of annual performance reviews keeps growing. Like most people, I've had ill-feelings toward the yearly performance reviews, for the exact reasons mentioned above.
If traditional performance management is ineffective, how else can we set goals, review them, and support employee growth. Agile performance management is the way forward.
What Is Agile Performance Management?
First, what does agile mean? The term "agile," which finds its origin in software development teams, is an approach that helps teams operate effectively in an evolving and changing environment. Many companies have adopted agile practices in their operations in recent years. Within HR, agile methodologies have disrupted areas like performance management, with companies such as Adobe, Dell, Microsoft, and IBM leading the way at practicing agile performance management.
Agile performance management is an approach that focuses on continuous feedback and ongoing development conversations for employees as they adapt to evolving business objectives. Compared to the traditional annual reviews that focus on rewarding or punishing people for past performance, the agile performance management approach focuses on developing employees' current performance for the future of work.
These days, more employees work on shorter-term projects, often run by different team leads. Agile performance management enables team leads to set the direction for their team projects, match the right people to those projects, and coach them to collaborate across organizational boundaries. As a result, it is more meaningful to have a team lead or manager to contribute ongoing performance feedback to a team member than to wait for the employee's manager to evaluate their performance.
Why Is Agile Performance Management Better Than Traditional Performance Management?
Let's begin by analyzing the characteristics of both the traditional and agile performance management approaches. According to research conducted by The IBM Smarter Workforce Institute, traditional performance management applies a structured and fixed-interval process that allows only managers to evaluate employees. In contrast, the agile performance management approach allows for greater transparency and flexibility in goal-setting. Besides, employees can share regular, real-time, and multi-sourced feedback that can improve their performance.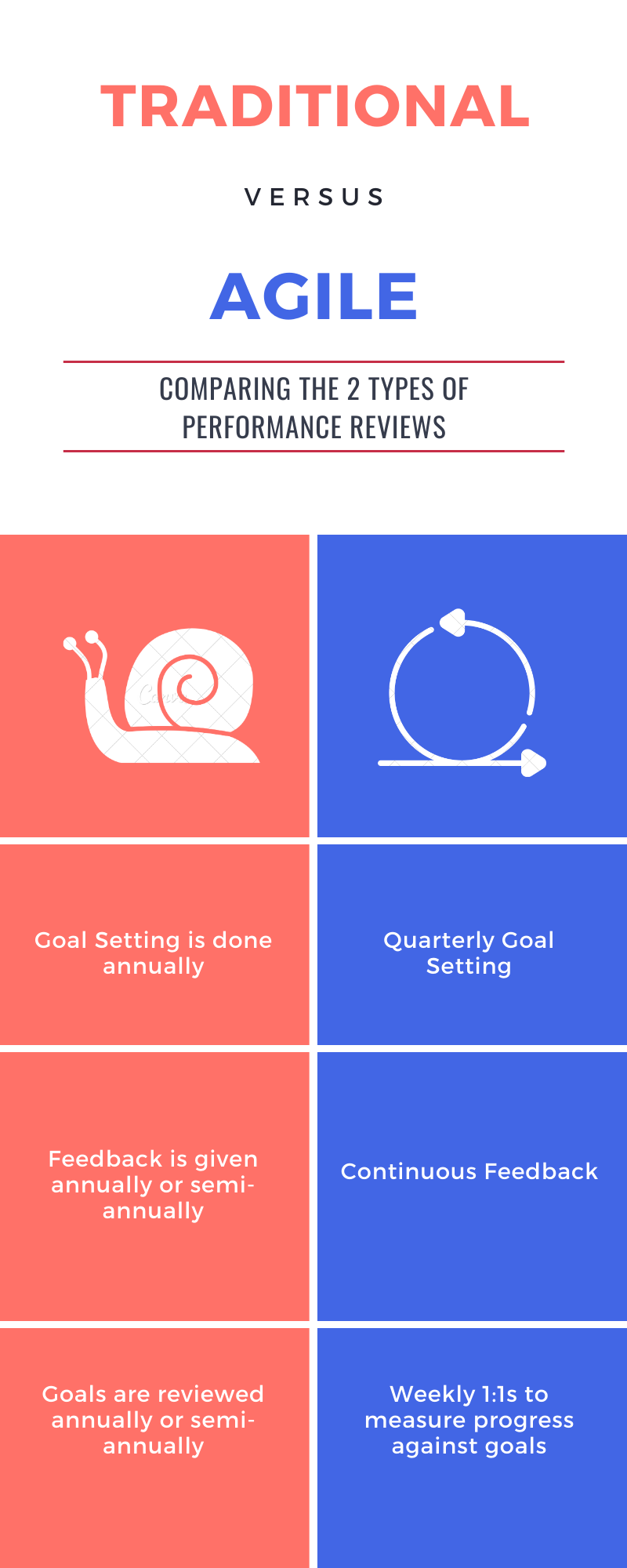 There's a need for faster, more frequent, and technology-driven feedback. Millennials grew up receiving regular praise from friends and family through social media, and agile performance management meets their expectations. Agile performance management is a better approach for giving accurate, timely, and development-oriented feedback.
How to Build an Agile Performance Management System

As an HR leader looking to implement an agile performance management system, you need to consider the following building blocks:

Get the support of your leadership: Leaders are in the best position, through their commitment and actions, to demonstrate the importance of a new system or approach. Leaders play a crucial role in shaping company culture and helping employees understand why your company is adopting a new performance management approach and what it means for them.


Offer training to your employees: Employees need to know what it takes to give and receive feedback. Instead of dreading performance conversations, they should understand how feedback contributes to their long-term development. When offering training in an agile workplace, it needs to be flexible and customizable. For millennials and Gen Z, who prefer regular communication and personalized training, you would need to offer multiple training options such as "on-the-job learning, eLearning, shadowing, buddy programs, group discussions and mentoring."


Create a collaborative work environment: An agile performance management approach requires a collaborative work environment. Employees need to be able to collaborate across organizational boundaries and cross-functional teams. Doing so will allow for all-round developmental feedback from multiple sources, such as their teammates, team leads, and managers.


Encourage ongoing feedback and flexible goal setting: When business objectives change, employees need to realign their goals with them. So, it's necessary to design a flexible goal-setting process that would allow employees to have ongoing feedback conversations. Such flexibility will offer them the support they need to adapt to new business objectives successfully.


Leverage a well-designed technology platform: As mentioned earlier, an agile workplace requires faster, more frequent, and technology-driven feedback. Companies can achieve this by implementing an agile performance management software that can help employees, especially millennials and Gen Zers, exchange instant performance feedback with their coworkers. Through a user-friendly technology platform like Inkrement, employees can give and receive real-time feedback on their performance. They can also get friendly reminders to leave feedback for their peers. Cool, right? An agile performance management software also allows everyone to track their feedback for future reference.
Are you looking to transition to agile performance management?
Inkrement can help you on your journey by making it easier to give and receive continuous feedback.